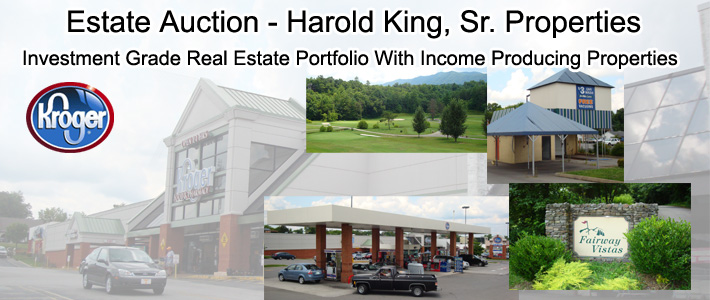 Two-Day Real Estate Auction
Harold King, Sr. Estate
Prime Investment Properties Located Throughout
Alcoa and Townsend, TN
Friday and Saturday, August 21st and 22nd, 2009
Click the links below for additional information
Sale #1 - Friday, August 21st, 2009 - Beginning at 12:00 Noon Sale #2 - Saturday, August 22nd, 2009 - Beginning at 10:30 AM
2% Broker Participation Offered
A broker agreement must be executed and faxed to Furrow Auction at least 48 hours in advance of the auction to qualify.
Terms: 10% Buyer's Premium. Successful bidder will deposit 10% of the purchase price (including Buyer's Premium) and is due day of sale in the form of cash cashier's check personal or company check with a bank Letter of Guaranty, plus a real estate sales contract must be signed. Balance is due in certified funds at closing. CLOSING MUST OCCUR WITHIN 20 DAYS OF SALE DATE. NO EXTENSIONS.